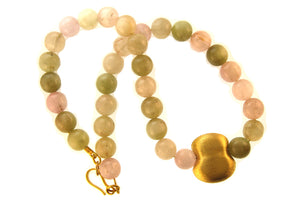 This gorgeous piece brings a touch of elegance and sophisticaticon to any occasion. A vintage 18k satin gold nugget bead marks the center of this stunning 17" necklace. 
Kunzite  is a very high vibration stone that is said to activates the Heart. It supports peace, deep meditation and loving communication.
Pair with our other Kunzite Necklace for an incredible knock-out look.