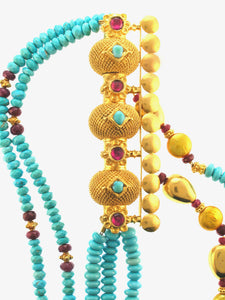 Introducing our exquisite 18K Antique Indian Pendant on Turquoise and Ruby 18K strand with matching tassel. This truly unique and one-of-a-kind creation is sure to captivate your senses with its timeless beauty. 
The pendant showcases the perfect blend of elegance and heritage. Made from 18K Gold, Ruby and Turquoise, it exudes a luxurious and regal charm.  It is a  piece of history, with an age ranging from 50-80 years old.  The intricate detailing and traditional Indian design make it a true work of art.
Mikelle combined the vibrant hue of Sleeping Beauty Turquoise with the rich red tones of Ruby, which are highlighted by 18K vintage gold beads.  The result is a stunning contrast that is an unexpected, elegant feast for the eyes.
Completing the design is a tassel, made up of 3 matching strands of Turquoise, Ruby and Gold adding a touch of playfulness and movement to the necklace. 
Whether you are a collector of fine jewelry or someone who appreciates the beauty of Indian craftsmanship, this necklace's timeless appeal and exceptional quality make it a true investment piece that will be cherished for generations to come.